Searching for an Truck Accident Lawyer in Texas?
At Testa Law Group, we give your case the attention it deserves to help you get awarded the maximum amount of money allowable under law. Our team of Truck Accident Lawyers are among the best in Texas, .

Home
If you've been hurt
Testa Law Group can help you.
Truck accidents are a growing issue in America and a much-talked-about dilemma by safety administrations and agencies across the United States. Though truck accidents have been happening since motor vehicles were developed, there are now more countless forms of truck accidents in Texas that happen on the road than ever before. A truck wreck can not only be an instance of driver negligence but can be life-threatening and cost inhibiting experience for the innocent driver.
If you or a loved one has been injured in a truck accident in the Texas area, please do not hesitate to contact Mr. Nicholas Testa, an experienced Texas Truck Accident Lawyer with Testa Law Group who represents the injured in the Texas area.
Our Texas Truck Accident Lawyers have years of experience in achieving favorable compensatory settlements for our clients. The negligent driver should be held accountable for your medical expenses, lost wages, and any additional damages you have faced as a result of the accident.
Contact our Houston Law Office office at 877-780-9052 today for your initial free consultation.
Typical Truck Accidents
Truck accidents put numerous people such as pedestrians, bicyclists, and unsuspecting motorists in immediate dangers as the negligent driver operates the vehicle in an unlawful manner; thus, trcuk accidents result in severe consequences for innocent victims.
Types of truck accident cases we handle include:
Pedestrian crashes
Distracted driving
Head-on collisions
Intersection accidents
Drunk Driving
Crashes caused by leaving the road
Rear-end collisions
Side-swiping
Hit-and-run
So, What Causes Truck Accidents?
While technology has saved lives, it also appears to be taking lives as more people engage in what is called "distracted driving" as they sit behind the steering wheel. Distractions for drivers today differ from old problems of fumbling with the radio to new hazards, such as checking social media accounts.
Some hazards, typically include:
Texting or talking on a cell phone
Using an application on the phone
Eating or Drinking
Talking to passengers
Changing the radio station
Looking at signs or other visual distractions
Using a GPS navigation system ir reading a map
Grooming
About Us
About Us
Testa Law Group
A Texas personal injury law firm of highly experienced and successful personal injury lawyers, represents plaintiffs in serious personal injury and wrongful death cases throughout Texas and the surrounding areas. It is renowned for its achievements in the courtroom and its aggressive settlements with insurance companies.
We represent individuals and their families in personal injury and wrongful death cases resulting from motor vehicle negligence, aviation tragedies, construction negligence, railroad, medical malpractice, product liability, premises liability and construction accidents. Lead by Mr. Nicholas Testa, our work also includes business and commercial litigation.
We are extremely proud of our extraordinary history. And we are even more excited about our future. Our highly successful and creative trial attorneys; our dedicated and hard-working management team and staff; and our state of the art technology ensure that our clients will continue to receive the best legal services possible in Texas, .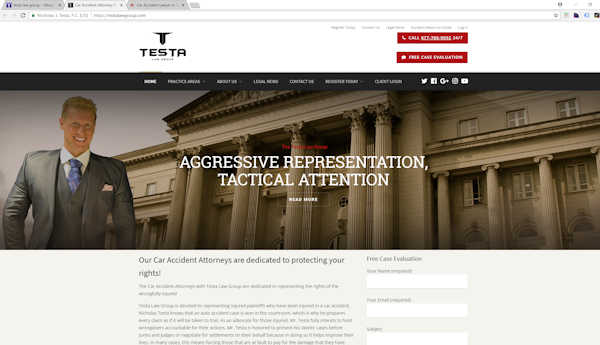 Testa Law Group
Houston Law Office Office
2001 S Voss Rd, #521
Houston, TX 77057
877-780-9052
832-779-8470
*By Appointment Only
We are willing to come to your home, office, or hospital room if it makes it easier on you!
Protect Your Rights
With A Dedicated Truck Accident Lawyer
Being the victim in trcuk accident is traumatizing and frightful due to the intense and unexpected nature of such accidents.
Our Texas Truck Wreck Attorney at the Testa Law Group are dedicated to obtaining money for clients hurt by negligent drivers. For more knowledge on how our law team can help you in your injury lawsuit, contact our offices today by calling 877-780-9052 to speak with a dedicated Truck Accident Lawyer.
Practice Areas
Practice Areas
Choosing The Right Truck Accident Lawyer
At Testa Law Group, we have seen first-hand the toll that an accident can take on you and your loved ones. Having spent years representing people who have been injured, we have some tips that can help you select the right attorney.
Choosing a Truck Accident Lawyer who willing to actively investigates and preserves your claim is essential in obtaining the compensation you're entitled to.
Experience - Never underestimate the value of an attorney's experience when it comes to assessing and investigating a claim. Hiring a personal injury attorney who knows what to look for; where to look for it; and understands what it means to your case can make all the difference.
Focus - The focus of an attorney's practice can make a huge difference in the outcome of your case. A personal injury lawyer has unique skills when it comes to determining issues of liability such as negligence and causation - and is probably better equipped when it comes to accurately valuing the compensation for which you are entitled.
Reputation - An attorney's reputation can go a long way when it comes to resolving your case quickly and fairly due to their previous dealings with insurance companies and other lawyers in the area and in the court system(s) in which they practice.
Objectivity - Objectivity cannot be understated when it comes to being compensated for your injuries. Make sure your attorney is objective and isn't looking to settle your case too quickly in order to move on to the next client.
Personality - Often the most overlooked factor in hiring an attorney is personality. While you may not be discussing your case together over dinner every night, when you've been injured the last thing you need is an attorney who is not going to be there for you to ask questions, give you a status on your case or return your calls in a reasonable time.
Type Of Injury
Type Of Injury
At Testa Law Group, we understand the difficulties and the complex issues linked to truck accidents, personal injury, wrongful death lawsuits, general practice, and other motor vehicle accidents. Our personal injury lawyers, serving , , recognize the impact these suits can have on all parties involved.
Call Mr. Nicholas Testa Now: 877-780-9052
Our Texas personal injury attorneys are dedicated to being your voice in tough times so you can recover damages that you are entitled to receive.
Testimonials
Testimonials
"Our firm has worked extensively with Nicholas and his firm for many years, and over that time, Nicholas and his firm have proven to be exceptional attorneys and advocates. Nicholas takes the time to really understand the case, and more importantly, really understand the client as not just a client, but rather as a human being. Nicholas and his firm bring to any case not only tireless advocacy and a keen knowledge of the law but also a real understanding of the impact an injury or illness can have on his clients. I am very glad my firm has had the privilege to work with Nicholas and his firm and I would strongly recommend them without hesitation."
James Catanich, February 23,2016, Superpages
"My experience with the Law Offices of Nicholas Testa was more than professional, and a great experienve! My lawyer helped settle my case fast and easy! I would refer them to anyone! "
Jon Perge, a year ago, Google
"Mr. Testa did a great job with my case. He was extremely helpful walking me through my options and was patient answering all my questions. He is highly knowledgable and professional. I am extremely happy with the outcome of my case and have already recommended him to my friends and family."
Maria Kliefoth, December 13,2017, Google
"... I never had to step a foot into their office. Mr. Testa took the time to personally call me to answer some questions I had. Great experience!"
Stephanie Plumbly, August 12, 2017, Facebook
"Mr. Nicholas Testa and his staff were helpful and patient through the whole process. It took a while, but they negotiated back and forth until I was able to get a suitable settlement and make sure everything was covered."
Shelly Denise Gonzalez, August 11, 2017, Superpages
Contact us today
Contact Us
Free Personal Injury Law Case Reviews
The last thing you want to worry about are medical bills, complicated insurance policies and uncooperative adjustors. That's why we are here.
Testa Law Group
2001 S Voss Rd, #521
Houston, TX 77057
Phone: 877-780-9052
Email: office@testalawgroup.com

Free Case Evaluation
We understand that you may have questions or concerns about the legal process. Take the first step towards exercising your legal rights today and speak to an experienced injury lawyer about your case. All consultations are free and confidential.
Get Answers
Frequently Asked Questions
What Happens During A Truck Accident Lawsuit?
Most people have never been involved in a lawsuit. As such, many accident victims and their families are anxious about pursuing a personal injury claim. It is true that a lawsuit could result in a trial before a jury, but most don't, and the process should not be a stressful one.


Latest questions asked about an auto accidents
I previously injured the same or a similar part of my body in the past. Will this hurt my case?
What is Medical Payments Coverage?
What are the steps to take after a car accident?
Sacramento Accidents & Street Laborers
Should I provide a recorded statement to the insurance company?
What is Collision Coverage?
The accident was my fault.
Do I have grounds to file a personal injury claim for my car accident?
Latest questions asked about a truck accidents
Do I really need to hire a lawyer to handle a trucking accident case? Won't the at fault party take care of my expenses?
Are truckers allowed to text while driving?
How long will my case take?
How do you prove that the accident was the commercial driver's fault?
Are expert witnesses necessary to prove fault in a trucking accident case?
Do different laws apply to truck accidents in Maryland?
Who is sued as a result of an accident involving a big rig?
If I choose to file a lawsuit to obtain compensation for my injuries sustained in a trucking accident, do I ask for compensation from the trucking company or the trucker?
Why are truck accidents so serious? How big are the claims involved?
What should I do if the truck driver doesn't want to call police after our accident?
Are there special laws that apply in these cases?
Are fatal trucking accidents fairly common?
Latest questions asked about a personal injury lawsuit
What Is The Maximum Time Limit To See A Doctor After The Accident In A Personal Injury Case?
How Do People Behave Regarding Their Personal Injury Case?
What Are The Potential Damages If Somebody Died In An Accident?
Do People Lose Courage During Their Personal Injury Cases?
Does Your Citation At An Accident Ruin Your Ability To Receive Money For Your Injuries?
What Mistakes Do People Make That Can Hurt Their Personal Injury Cases?
Why Do Most Personal Injury Cases Settle And Not Go To Trial?
How Long Do Auto Accident Cases Typically Last?
Why Do People Avoid Seeing A Doctor After The Accident?
How Long Do Auto Accident Cases Take To Resolve?
What Makes A Personal Injury Case Strong?
Should You Give Statements To The Other Party's Insurance Company Regarding Personal Injury Case?
Latest questions asked about a insurance needs
What Coverages are required by insurers?
Why should I consider Personal Umbrella insurance?
What is Health Insurance?
What is No-Fault?
What is Life Insurance?
Convenient Locations
Convenient Locations
Our skilled Truck Accident Lawyer are familiar with most local courts in TX, FL, and LA and can negotiate with insurance companies to obtain the best outcome possible in your personal injury case. We serve most counties in including and surrounding cities of .
Let us put our experience and knowledge to work for you. Contact us today to learn how the dedicated attorneys at Testa Law Group can help you.
Texas Counties Served
Serving clients in all Texas counties
Anderson County
,
Andrews County
,
Angelina County
,
Aransas County
,
Archer County
,
Armstrong County
,
Atascosa County
,
Austin County
,
Bailey County
,
Bandera County
,
Bastrop County
,
Baylor County
,
Bee County
,
Bell County
,
Bexar County
,
Blanco County
,
Borden County
,
Bosque County
,
Bowie County
,
Brazoria County
,
Brazos County
,
Brewster County
,
Briscoe County
,
Brooks County
,
Brown County
,
Burleson County
,
Burnet County
,
Caldwell County
,
Calhoun County
,
Callahan County
,
Cameron County
,
Camp County
,
Carson County
,
Cass County
,
Castro County
,
Chambers County
,
Cherokee County
,
Childress County
,
Clay County
,
Cochran County
,
Coke County
,
Coleman County
,
Collin County
,
Collingsworth County
,
Colorado County
,
Comal County
,
Comanche County
,
Concho County
,
Cooke County
,
Coryell County
,
Cottle County
,
Crane County
,
Crockett County
,
Crosby County
,
Culberson County
,
Dallam County
,
Dallas County
,
Dawson County
,
Deaf Smith County
,
Delta County
,
Denton County
,
DeWitt County
,
Dickens County
,
Dimmit County
,
Donley County
,
Duval County
,
Eastland County
,
Ector County
,
Edwards County
,
El Paso County
,
Ellis County
,
Erath County
,
Falls County
,
Fannin County
,
Fayette County
,
Fisher County
,
Floyd County
,
Foard County
,
Fort Bend County
,
Franklin County
,
Freestone County
,
Frio County
,
Gaines County
,
Galveston County
,
Garza County
,
Gillespie County
,
Glasscock County
,
Goliad County
,
Gonzales County
,
Gray County
,
Grayson County
,
Gregg County
,
Grimes County
,
Guadalupe County
,
Hale County
,
Hall County
,
Hamilton County
,
Hansford County
,
Hardeman County
,
Hardin County
,
Harris County
,
Harrison County
,
Hartley County
,
Haskell County
,
Hays County
,
Hemphill County
,
Henderson County
,
Hidalgo County
,
Hill County
,
Hockley County
,
Hood County
,
Hopkins County
,
Houston County
,
Howard County
,
Hudspeth County
,
Hunt County
,
Hutchinson County
,
Irion County
,
Jack County
,
Jackson County
,
Jasper County
,
Jeff Davis County
,
Jefferson County
,
Jim Hogg County
,
Jim Wells County
,
Johnson County
,
Jones County
,
Karnes County
,
Kaufman County
,
Kendall County
,
Kenedy County
,
Kent County
,
Kerr County
,
Kimble County
,
King County
,
Kinney County
,
Kleberg County
,
Knox County
,
La Salle County
,
Lamar County
,
Lamb County
,
Lampasas County
,
Lavaca County
,
Lee County
,
Leon County
,
Liberty County
,
Limestone County
,
Lipscomb County
,
Live Oak County
,
Llano County
,
Loving County
,
Lubbock County
,
Lynn County
,
Madison County
,
Marion County
,
Martin County
,
Mason County
,
Matagorda County
,
Maverick County
,
McCulloch County
,
McLennan County
,
McMullen County
,
Medina County
,
Menard County
,
Midland County
,
Milam County
,
Mills County
,
Mitchell County
,
Montague County
,
Montgomery County
,
Moore County
,
Morris County
,
Motley County
,
Nacogdoches County
,
Navarro County
,
Newton County
,
Nolan County
,
Nueces County
,
Ochiltree County
,
Oldham County
,
Orange County
,
Palo Pinto County
,
Panola County
,
Parker County
,
Parmer County
,
Pecos County
,
Polk County
,
Potter County
,
Presidio County
,
Rains County
,
Randall County
,
Reagan County
,
Real County
,
Red River County
,
Reeves County
,
Refugio County
,
Roberts County
,
Robertson County
,
Rockwall County
,
Runnels County
,
Rusk County
,
Sabine County
,
San Augustine County
,
San Jacinto County
,
San Patricio County
,
San Saba County
,
Schleicher County
,
Scurry County
,
Shackelford County
,
Shelby County
,
Sherman County
,
Smith County
,
Somervell County
,
Starr County
,
Stephens County
,
Sterling County
,
Stonewall County
,
Sutton County
,
Swisher County
,
Tarrant County
,
Taylor County
,
Terrell County
,
Terry County
,
Throckmorton County
,
Titus County
,
Tom Green County
,
Travis County
,
Trinity County
,
Tyler County
,
Upshur County
,
Upton County
,
Uvalde County
,
Val Verde County
,
Van Zandt County
,
Victoria County
,
Walker County
,
Waller County
,
Ward County
,
Washington County
,
Webb County
,
Wharton County
,
Wheeler County
,
Wichita County
,
Wilbarger County
,
Willacy County
,
Williamson County
,
Wilson County
,
Winkler County
,
Wise County
,
Wood County
,
Yoakum County
,
Young County
,
Zapata County
,
Zavala County
,